Dax Outlook 2017 W15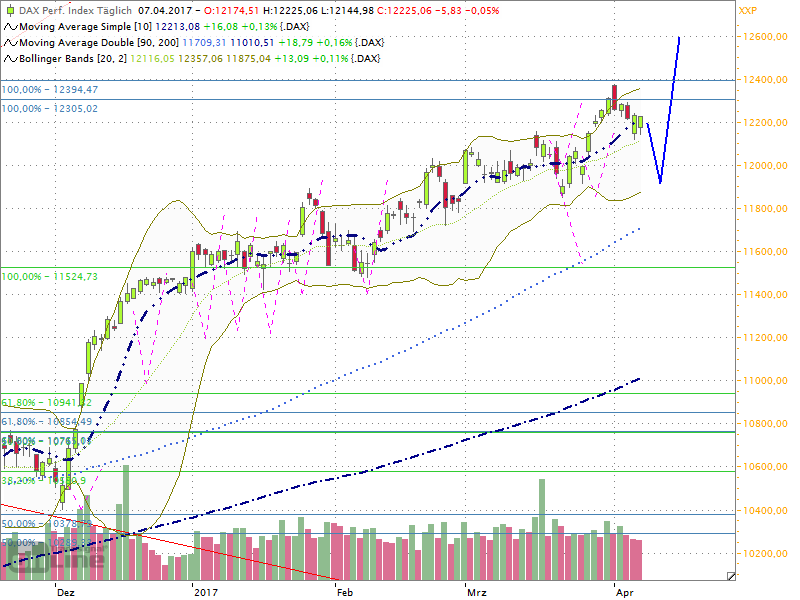 The Dax  rallyed up to 12'369 points with almost no correction. Military action of the US in Syria caused a very brief drop in shares and rising Gold and USD prices, but within the day shares recovered.
The MACD is slightly bullish, the RSI at 60,58 and the VDAX rose to 17,84.
The uptrend is still at work and seems reasonably unimpressed by geopolitical uncertainty. Corrections are still likely and the V-Dax-new coming back up from recent lows below 12 hints a bit more volatility. Nevertheless the situation is not overbought and further gains towards 12'600 could be possible.
Support:           12'200, 12'000,  11'800,   11'600, 11'400, 11'380, 11'286,11'200,11'000, 10'800, 10'570,10'380, 10'320, 10'150,10'100,  9'930, 9'850, 9'750, 9'600,  9'360,  9'214,  9'000,  8'903,  8'500
Resistance:Â Â Â Â Â Â Â Â Â Â Â Â Â  12'300, 13'500, 14'000, 14'500