Dax Outlook 2016 W42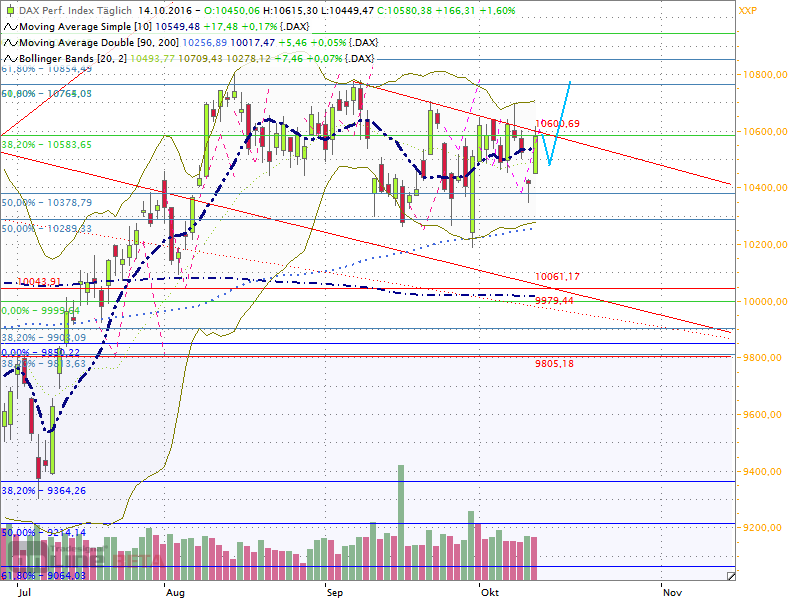 The Dax behaved more or less in line with expectations. Undershooting the 10'400 and the recovering up to 10'600 points. The first drop was driven by weak data from China but then it found support around 10'360 and recovering back to the upper limit of the downward trend.
The MACD is now slightly bullish, the RSI rose to 53.10 and the VDAX fell to 18.83.
Unfortunately the downward trend is not broken yet. Falling prices towards 10'000 could still be possible. Nevertheless the "Hammer" formed on Thursday signals good support around 10'360. Further support could com from the still rising USD which should positively influence German exports.
So a daily close above 10'600 should favour rising prices up to 10'800 in the next week. Below 10'600 another test of 10'360 or even lower is possible.
Support:              10'570, 10'380, 10'320, 10'150,10'100,  9'930, 9'850, 9'750, 9'600,  9'360,  9'214,  9'000,  8'903,  8'500
Resistance:         10'800, 11'000, 11'200,  11'286,11'380, 11'400,11'600, 11'800, 12'200,  13'500, 14'000, 14'500