Dax Outlook 2016 W14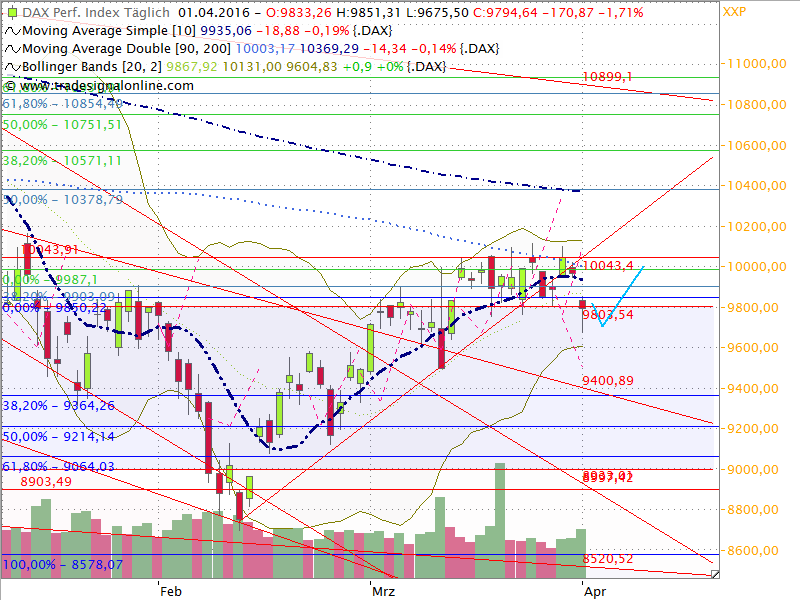 The 10'100 was tried a third time last week but the Dax didn't manage to cross it. On Friday the index fell briefly to 9'675 before ending the week at nearly 9'800.
The MACD is bearish, the RSI is at 49.67 and the VDAX rose to 22.08.
On the bearish side the short-term upward trend since mid February is broken and the 90 day MA could not be surpassed. A bit of hope comes from the long downside shadow on Friday, where the Dax seemed to have gotten good support around the 9'700 level. From there a new attempt on the 10'000 and 10'100 could be starting. Instead a break of the 9'675 would pave the way to 9'500.
Support:Â Â Â Â Â Â Â Â Â  9'750, 9'600, 9'360, 9'214, 9'000, 8'903, 8'500
Resistance:     9'850, 9'930, 10'000, 10'150, 10'320, 10'570, 10'800, 11'000, 11'200,  11'286,11'380, 11'400,11'600, 11'800, 12'200,  13'500, 14'000, 14'500