Dax Outlook 2015 W50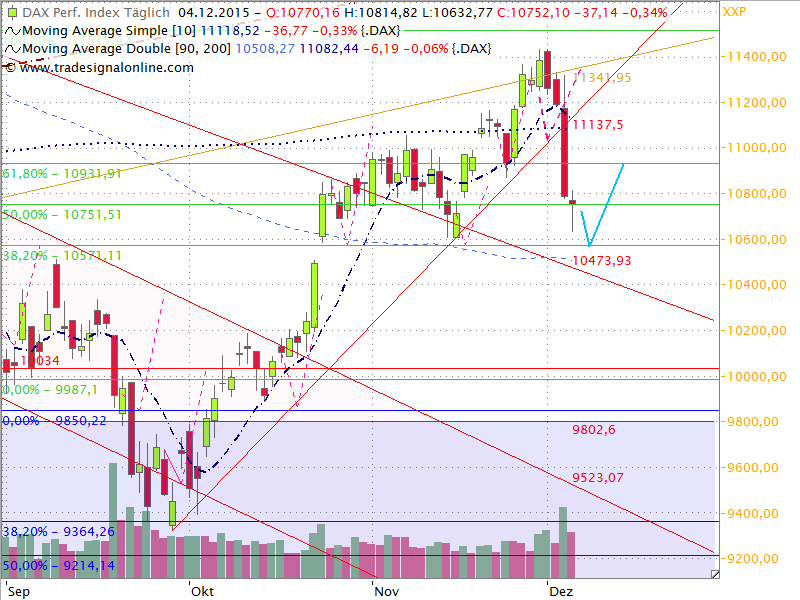 Last week the Dax the Dax crashed after the ECB did not fulfil the expectations of the investors. The Index crashed from around 11'400 to a low of 10'632 on Friday, before stabilizing around 10'752.
The MACD changed bearish, the RSI is down to 44.42 and the VDAX is 20.60.
After forming a tweezer top on Tuesday and going a bit lower on Wednesday, Thursday ended in a desaster with a loss of around 400 points. In the end the ECB decided to prolong their QE programme, so the news was not that bearish at all. The expectations seem to have been a lot higher.
In the coming week there could be some consolidation above the 10'570-10'640 level and maybe even a recovery coming up to nearly 11'000.
Support:Â Â Â Â Â Â Â Â  10'570,10'320, 10'000, 9'930, 9'360, 9'214, 9'000, 8'903
Resistance:     10'800,11'000, 11'200,  11'286,11'380, 11'400,11'600, 11'800, 12'200,  13'500, 14'000, 14'500